Posts Tagged 'garbage disposal maintenanceg'
As one of the most important features in your sink, your garbage disposal requires essential maintenance to ensure it is always flowing freely. Without proper installation and maintenance, your disposal can quickly back up and cause you a major hassle. Even if you're looking to upgrade your existing disposal to a newer model, or add one to make your life a little easier, the prompt, professional Phoenix AZ plumbers at Smiley Plumbing can accomplish this task for you.
Like many things in our residential plumbing systems, garbage disposals require critical maintenance services in order to operate at peak performance levels. It is a sad truth, however, that often garbage disposal maintenance takes a backseat to the large plumbing fixtures in our homes, such as toilets and showers. Without proper maintenance for your disposal, it can quickly malfunction, leaving you in the lurch, unsure of what steps to take next. Our trained and experienced plumbers can ensure your disposal is operating at the highest performance levels, allowing you and your family to rest easy when it comes to removing excess food waste. Our professional plumbers can also provide you with easy, at-home maintenance tips to ensure your garbage disposal is always functioning at the highest level possible.
For all your garbage disposal needs in Phoenix and the surrounding area, Smiley Plumbing is here to help. For additional information regarding garbage disposal maintenance or to schedule a service, give us a call at 602-298-8100 or contact us online today.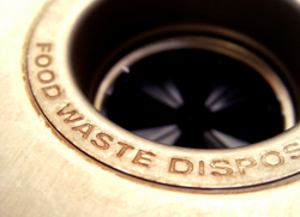 Considering over 50% of sinks now come equipped with them, keeping your garbage disposal in great shape can be a task in itself. A poorly performing garbage disposal can be an inconvenience to any home, not to mention cause strong odors to seep into your kitchen from food leftover. Our Phoenix AZ plumbing experts at Smiley Plumbing know that a lot of work can go into maintaining your garbage disposal, so here are some helpful tips to keep your disposal – and your kitchen – flowing smoothly.
Remember that not all food is meant to go down the disposal. It is best to use small amounts of food at a time to avoid your disposal becoming backed up by an amount it simply can't process. A garbage disposal can't process bones, so it is best to simply throw those out after a meat-based meal. Always remember to run cold water while your disposal is running, as this will help the food dispose more quick and smoothly, avoiding any excess buildup.
To better prevent clogged pipes, grind a few small ice cubes down the disposal every so often. This will help ensure the blades in your disposal are sharp and effective, while getting at the hard-to-reach areas in your pipes in the process.
To keep your kitchen smelling clean, citrus fruits down your disposal will do the job. You don't need to the whole fruit for this, just the peel is equally effective. After cleaning your disposal with ice, grind the rind of a lemon or lime to ensure that a fresh, citrus smell is all that wafts through your kitchen during these hot Texas summers.
For more garbage disposal maintenance tips, or to schedule an appointment for an installation, give us a call at 602-298-8100 or visit us online today.