Posts Tagged 'drain snake'
To be able to clean your drain or do any other plumbing job in your home, you need the right tools and knowledge. You also have to understand how to use specialized plumbing tools. A DIY project to clean your drain can allow you to remove hair, debris, soap, grease and other materials from the drains in your kitchen or bathroom, but you need to clean your drain right the first time. When you have a larger job that requires a plumbing device such as a snake or an auger, you should consider hiring a professional plumber to help ensure that you don't have major plumbing problems in the future. For those who live in Central Arizona, Smiley Plumbing, a drain cleaning service in Phoenix, offers a range of plumbing services, including draining cleaning services. We serve residential and commercial customers in the Valley, in locations such as Mesa, Tempe, Scottsdale, Glendale, Sun City and Apache Junction, providing every customer with high-quality work on their plumbing.
Our professional plumbers can come in to fix plumbing problems, install fixtures, check your plumbing, clean your sewer or drain and provide a range of other services. Whether you need us to find a leak, make sure you are following plumbing codes, install a toilet or sink or perform drain cleaning services on your water main, our certified plumbers are qualified to do the job. You don't have to worry that our company will create a major mess in your home because we work to get every job done with minimal disruption to your life. As our plumbers work on your plumbing, they will give you plumbing tips so that you can better take care of the drains, sewers or pumps in your home or business. We are committed to educating you so that you can keep your plumbing and fixtures in good condition for years to come.
Our company wants to make sure that you don't have to spend large amounts of money on plumbing over a period of a few months or years. When you have an emergency plumbing issue in your home or business, Smiley Plumbing will get a plumber out to inspect and repair your faucet, garbage disposal, gas line, handicap plumbing, water heater, boiler or gas line. To reach us, call 602-910-6582. You can also contact us online.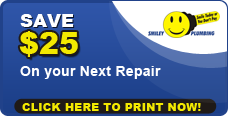 Clogged drains in your kitchen or bathtub or sink are common occurrences and can quickly put a halt to your normal routine. Drain cleaning service from your Phoenix AZ plumbing company, Smiley Plumbing, can alleviate any problems you have and prevent stoppage from becoming an issue again.
Many store bought drain cleaners will only temporarily prevent drain clogs and for heavy buildup, often can't handle the job. Your Phoenix plumber, Smiley Plumbing, will use professional services like drain snaking, hydro jetting, and video camera inspection to find the root cause of your clogged drain. Clogged drains can become worse over time, often due to material buildup that continues to collect, so it is essential that you relieve these issues as soon as you notice water buildup.
One of the most common causes of household drain clogs is grease, soap, and hair buildup. Manmade obstructions from unacceptable items not meant for residential pipes and drains are often flushed or dropped in sinks. These unwanted items cause major backups more quickly and need to be addressed as soon as possible. With years of experience, Smiley Plumbing is your Phoenix drain cleaning service of choice. Emergency drain cleaning service, available 24 hours a day, is just a phone call away.
Drain snaking is one of the most common and effective approaches to clearing clogged drains. Hydro jetting clean tougher buildups with high pressure water making sure the walls of the pipe are also clean. Video camera inspection can pinpoint the cause of a clogged drain with state-of-the-art cameras fed down the drain line to the source of the buildup. Video camera inspections can also confirm a drain is cleared after using other methods of unclogging the drain.
Do not hesitate to call a plumbing professional to clear your clogged drain. Schedule a drain cleaning with Smiley Plumbing by visiting them online or calling 602.298.8100.