To be able to clean your drain or do any other plumbing job in your home, you need the right tools and knowledge. You also have to understand how to use specialized plumbing tools. A DIY project to clean your drain can allow you to remove hair, debris, soap, grease and other materials from the drains in your kitchen or bathroom, but you need to clean your drain right the first time. When you have a larger job that requires a plumbing device such as a snake or an auger, you should consider hiring a professional plumber to help ensure that you don't have major plumbing problems in the future. For those who live in Central Arizona, Smiley Plumbing, a drain cleaning service in Phoenix, offers a range of plumbing services, including draining cleaning services. We serve residential and commercial customers in the Valley, in locations such as Mesa, Tempe, Scottsdale, Glendale, Sun City and Apache Junction, providing every customer with high-quality work on their plumbing.
Our professional plumbers can come in to fix plumbing problems, install fixtures, check your plumbing, clean your sewer or drain and provide a range of other services. Whether you need us to find a leak, make sure you are following plumbing codes, install a toilet or sink or perform drain cleaning services on your water main, our certified plumbers are qualified to do the job. You don't have to worry that our company will create a major mess in your home because we work to get every job done with minimal disruption to your life. As our plumbers work on your plumbing, they will give you plumbing tips so that you can better take care of the drains, sewers or pumps in your home or business. We are committed to educating you so that you can keep your plumbing and fixtures in good condition for years to come.
Our company wants to make sure that you don't have to spend large amounts of money on plumbing over a period of a few months or years. When you have an emergency plumbing issue in your home or business, Smiley Plumbing will get a plumber out to inspect and repair your faucet, garbage disposal, gas line, handicap plumbing, water heater, boiler or gas line. To reach us, call 602-910-6582. You can also contact us online.
In most households, the kitchen is the spotlight, the heart of the home. More than just a place to prepare and cook food, the kitchen is a space to entertain and gather. One area of the kitchen that tends to be an afterthought, despite its significance in the space, is the sink. The kitchen sink is typically the most widely used item in your kitchen, which can often lead to issues with clogging and malfunctioning of the garbage disposal. If you are planning on renovating your kitchen, a new efficient and modern kitchen sink can be the first step towards an updated kitchen.
A quick and easy way to instantly add value to your home is by renovating your kitchen.  A sleek new kitchen sink can add just the right touch for a polished look. Smiley Plumbing offers a wide variety of sinks with familiar brands and styles that will add the perfect touch to your kitchen. Whether you have a traditional styled kitchen or ultra chic, we're here for you every step of the way. At Smiley Plumbing, our professional plumbers will provide quality assistance from choosing your choice of sink style, installing your kitchen sink, replacing it, to repairing any of the plumbing fixtures in your kitchen.
Our professional plumbers in Phoenix offer a variety of services that can help increase the efficiency of your kitchen. At Smiley Plumbing, we will provide expert assistance in getting your top-notch kitchen sink, including garbage disposal repair and installation. We are happy to provide you with quality plumbing services in Phoenix that you deserve. Our plumbers are available 24/7 at 602-910-6582 for any emergency plumbing or regular plumbing maintenance needs. Give us a call or visit online to schedule a plumbing service now.
Garbage disposals are a convenient appliance that makes short work of food scraps, chopping up leftovers and sending them down the drain, but like any appliance, they eventually need replacing. Garbage disposal installation requires working with the home's plumbing and electrical systems and also involves working under the sink for an extended period of time. If you're not in a DIY mood, you can always count on Smiley Plumbing to complete any plumbing installation job you have.
The first step to replacing your garbage disposal is to disconnect the power supply to the unit. Most units plug into an electrical outlet under the sink. Hard-wired units must be disconnected at the circuit breaker. Using a screwdriver, open the unit's access panel and disconnect the wiring. It's important to disconnect the electrical cable from the base of the unit as well, as it acts as a ground for the unit. Always use a tester to make certain that the power is off.
Next, unscrew the nut of the clamp that holds the drain pipe to the disposal. Maneuver the pipe out of the way. The unit is then ready to drop down. Loosen the locking ring at the top of the unit by rotating the ring with the help of a screwdriver to release the disposal from the mount. Detach the screws that hold the mounting ring to the underside of the sink. Above the mounting ring is a locking ring. Detach this with the flat blade of a screwdriver.
The flange around the drain on the sink can now be removed and cleaned. Once the sink flange has been cleaned, attach fresh putty around its rim before reinserting it into the sink. Reattach the locking rim and mounting rim and secure tightly, and then remove any excess putty from the sink flange.
It's easiest to connect the wiring to the new unit before attaching it to the mounting rim. Wiring is usually color coded to make installation easier. If it's not clear which wires to connect to the new unit, don't risk injuring your safety or your home's electrical system. Call a plumbing company in Phoenix to assist you. Once the electrical wires are connected, you can attach the new unit connect it to the drain pipe.
At Smiley Plumbing, we're happy to offer regular plumbing maintenance that will alert you to any necessary garbage disposal-related plumbing repairs. We're pleased to handle garbage disposal replacements for you as well. Call 602-910-6582 any day of the week for prompt, quality service.
Nothing gets the day started quite like an invigorating, warm and luxurious shower. A stimulating shower can start any day off on the right foot, or a relaxing shower can take the edge off after a long day at work. Oftentimes, though, your shower can be less than ideal, whether the result of a clogged shower head or a backed-up shower drain. Whenever an issue like this one occurs in your shower, the Phoenix AZ plumbers at Smiley Plumbing can see to it that it is taken care of in a timely and efficient manner.
No matter what is wrong with your shower, our shower repair professionals can ensure that the issue is alleviated as soon as possible, allowing you to enjoy a perfect shower once again. Clogged shower heads, nagging leaks, and stopped-up shower drains can negatively affect your shower, turning a place of relaxation into a source of irritation. Even if your shower is not boasting the proper water pressure that you would like, our plumbing technicians are experts when it comes to all things water pressure. Our plumbers can also effectively install and maintain your water heater, ensuring that your shower is always as warm as you would like. Our plumbing professionals are the best in the business at efficiently alleviating any issue in your shower system, allowing you to enjoy a soothing shower again in no time.
Your shower should always be source of solace from the day to day, not a source of stress. With the proper shower installation and repair from the Phoenix AZ plumbing professionals at Smiley Plumbing, you can be guaranteed your shower will always offer a place of comfort. To schedule an appointment, give us a call at 602-298-8100 or contact us online today.
Leaks cause aggravation for a homeowner and damage to the home. If you suspect a leak, the source of the leak must be found and repaired. Call Smiley Plumbing. We want to be your Phoenix AZ plumber for all your plumbing repair needs.
One of the services offered by our plumbing company in Phoenix is leak detection. There are several types of leaks our plumbers can find and fix, but all of them need prompt repair to prevent extensive damage to your home. These include water line leaks, sewer or drain leaks, or leaking gas pipes. If the leak is a slab leak or a gas leak, it must be repaired by a professional as they are too difficult or dangerous for a homeowner to fix.
Water leaks tend to have a hard-to-find source because the water may travel along a pipe from the leak before it drips out. Our plumbers are trained to spot the identifying factors for locating the exact spot the leak began, whether it originated in a pipe, fixture, or under the slab of a foundation.
Sewer drain line leaks may allow smelly sewer gases into the house or prevent waste from properly flowing into the sewer. This type of problem must be fixed immediately as it can create a health hazard for the home, especially if the leak in the sewer line allows waste into the yard.
Leaks in the gas pipes require immediate action because the leaking gas poses a high fire or explosion hazard. If you smell gas or suspect a leak, leave the house and call Smiley Plumbing for our emergency service to fix the leak quickly.
To find and fix the source of a leak, or for any other plumbing maintenance or repair, call our professional, punctual plumbers at Smiley Plumbing at 602.298.8100.
As one of the most important features in your sink, your garbage disposal requires essential maintenance to ensure it is always flowing freely. Without proper installation and maintenance, your disposal can quickly back up and cause you a major hassle. Even if you're looking to upgrade your existing disposal to a newer model, or add one to make your life a little easier, the prompt, professional Phoenix AZ plumbers at Smiley Plumbing can accomplish this task for you.
Like many things in our residential plumbing systems, garbage disposals require critical maintenance services in order to operate at peak performance levels. It is a sad truth, however, that often garbage disposal maintenance takes a backseat to the large plumbing fixtures in our homes, such as toilets and showers. Without proper maintenance for your disposal, it can quickly malfunction, leaving you in the lurch, unsure of what steps to take next. Our trained and experienced plumbers can ensure your disposal is operating at the highest performance levels, allowing you and your family to rest easy when it comes to removing excess food waste. Our professional plumbers can also provide you with easy, at-home maintenance tips to ensure your garbage disposal is always functioning at the highest level possible.
For all your garbage disposal needs in Phoenix and the surrounding area, Smiley Plumbing is here to help. For additional information regarding garbage disposal maintenance or to schedule a service, give us a call at 602-298-8100 or contact us online today.
Of all the problems that can occur within your plumbing system, pipe breaks are some of the most severe. Pipe breaks can grow from small drips to larger leaks rapidly, which is why it is essential they be handled in a timely and efficient manner. They can often come without warning and at the most inopportune times. This is where the Phoenix AZ plumbers with Smiley Plumbing come in to provide your home with the best quality plumbing services today.
Whether it is frozen pipes or broken pipes, pipe breaks can be extremely common plumbing problems. As any homeowner that has gone through this can attest, frozen pipes are something many of us never want to have to deal with. Frozen pipes can break extremely easily, which can pose you with a very large problem in your plumbing system. Pipe breaks can cause toxic mildew in your home, rust your cabinets or wood flooring, and destroy your prized possessions through excessive water damage. Our prompt plumbing professionals can make sure this common problem does not occur to you. And courteous, on-time service as well as 24-hour emergency repair available, you have nothing to lose.
For all your plumbing issues in Phoenix and the surrounding area, Smiley Plumbing is here to help. For additional information regarding pipe breaks, give us a call at 602-298-8100 or contact us online today.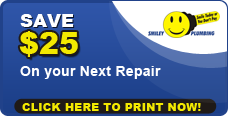 Many large meals will be cooked over the holidays with family in town and it is important to keep in mind the strain one can put on drain pipes. Fat from cooking, oil, grease, leftover food, bone scraps, and many other thick and congealing substances will be tossed down the sink drain without a care. Your Phoenix AZ drain cleaning experts at Smiley Plumbing want to remind you of a few things before you scrape off your plate or dump your leftover oils into your drain pipes.
Much of the traditional holiday food menu contains fatty oils and grease. Items such as roasted chicken, pie, cookie dough, sauces and gravy, oils, butter, and steak juices have clog creating substance. Water can't carry all of these substances down the sink drain pipes and too much of them will create a major backup.
Also, some of these oils are not environmentally friendly, aside from the danger of clogging your drain. In most cities and metropolitan areas, you can take up to 10 gallons to local landfill's that have household and hazardous waste collection facilities. Check your local Phoenix AZ city website to find where these landfills are located.  Oils are often reused in an environmentally friendly way and recycled to make another usable product.
Your local Phoenix AZ plumber at Smiley Plumbing most likely has family of his own in town over the holidays. And while emergency plumbing service is offered, following these simple steps to keep your plumbing draining smoothly over the holidays can't hurt:
Do not dump cooking oils and grease into sink drains
Food scraps should be put into a plastic trash bag
Cooking grease should be cooled and then scraped into trash bags
"Unflushables" such as baby wipes, diapers, rags, paper towels, toilet bowel cleaning pads, hygiene products and anything that will not breakup or dissolve in water should not be flushed down the toilet
Smiley Plumbing, your Phoenix AZ plumbing maintenance specialists, can provide you with drain cleaning service should you have trouble this holiday season. Give them at call at 602-298-8100 or visit them online to schedule plumbing service now.
When it comes to the plumbing in your home, there are many problems that can potentially occur within your system. Whether it is a backed up bathtub or a stopped up sink, there are many times you will need to rely on a licensed professional to get your systems back up and running. Oftentimes, these problems occur outside the typical 9-5 hours most businesses operate it. That is why our Phoenix AZ plumbers at Smiley Plumbing offer 24-hour emergency repair, seven days a week.
With our 24-hour emergency repair services, you will never have to worry about a sudden system breakdown shutting down your plumbing. Our trained and knowledgeable plumbing professionals can make sure your system is running smoothly and efficiently, no matter what time of day or night. We are always available to answer the call, and possess the equipment, skills, and tools needed to handle any project effectively, large or small. And as part of our professional policy, all of our plumbing repairs come with a satisfaction guarantee.
When you find yourself in need of a sudden plumbing repair, you often don't have time to wait until the morning. With the 24-hour emergency repair services provided by the reputable and reliable plumbing professionals at Smiley Plumbing, you won't have to. For additional information regarding emergency plumbing repair in Phoenix and the surrounding area, give us a call at 602-298-8100 or contact us online today.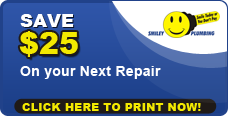 Clogged drains in your kitchen or bathtub or sink are common occurrences and can quickly put a halt to your normal routine. Drain cleaning service from your Phoenix AZ plumbing company, Smiley Plumbing, can alleviate any problems you have and prevent stoppage from becoming an issue again.
Many store bought drain cleaners will only temporarily prevent drain clogs and for heavy buildup, often can't handle the job. Your Phoenix plumber, Smiley Plumbing, will use professional services like drain snaking, hydro jetting, and video camera inspection to find the root cause of your clogged drain. Clogged drains can become worse over time, often due to material buildup that continues to collect, so it is essential that you relieve these issues as soon as you notice water buildup.
One of the most common causes of household drain clogs is grease, soap, and hair buildup. Manmade obstructions from unacceptable items not meant for residential pipes and drains are often flushed or dropped in sinks. These unwanted items cause major backups more quickly and need to be addressed as soon as possible. With years of experience, Smiley Plumbing is your Phoenix drain cleaning service of choice. Emergency drain cleaning service, available 24 hours a day, is just a phone call away.
Drain snaking is one of the most common and effective approaches to clearing clogged drains. Hydro jetting clean tougher buildups with high pressure water making sure the walls of the pipe are also clean. Video camera inspection can pinpoint the cause of a clogged drain with state-of-the-art cameras fed down the drain line to the source of the buildup. Video camera inspections can also confirm a drain is cleared after using other methods of unclogging the drain.
Do not hesitate to call a plumbing professional to clear your clogged drain. Schedule a drain cleaning with Smiley Plumbing by visiting them online or calling 602.298.8100.