Leaks cause aggravation for a homeowner and damage to the home. If you suspect a leak, the source of the leak must be found and repaired. Call Smiley Plumbing. We want to be your Phoenix AZ plumber for all your plumbing repair needs.
One of the services offered by our plumbing company in Phoenix is leak detection. There are several types of leaks our plumbers can find and fix, but all of them need prompt repair to prevent extensive damage to your home. These include water line leaks, sewer or drain leaks, or leaking gas pipes. If the leak is a slab leak or a gas leak, it must be repaired by a professional as they are too difficult or dangerous for a homeowner to fix.
Water leaks tend to have a hard-to-find source because the water may travel along a pipe from the leak before it drips out. Our plumbers are trained to spot the identifying factors for locating the exact spot the leak began, whether it originated in a pipe, fixture, or under the slab of a foundation.
Sewer drain line leaks may allow smelly sewer gases into the house or prevent waste from properly flowing into the sewer. This type of problem must be fixed immediately as it can create a health hazard for the home, especially if the leak in the sewer line allows waste into the yard.
Leaks in the gas pipes require immediate action because the leaking gas poses a high fire or explosion hazard. If you smell gas or suspect a leak, leave the house and call Smiley Plumbing for our emergency service to fix the leak quickly.
To find and fix the source of a leak, or for any other plumbing maintenance or repair, call our professional, punctual plumbers at Smiley Plumbing at 602.298.8100.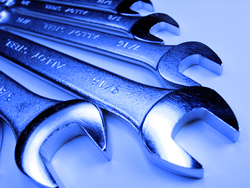 Leaks around sinks and faucets are common problems encountered both at home and in the workplace. It is often tough to handle complex plumbing leak issues caused by faulty water supply systems or gas pipelines. However, professional leak detection services from Smiley Plumbing, your Phoenix AZ plumber, specialize in identifying and repairing such problems. Leak detection service providers often use advanced technologies to detect the location and the cause of pipeline leaks with precision.
A home is probably your largest investment and a mysterious leak can create unnecessary stress and expense. Water leak damage can destroy ceilings, walls, floor coverings and furnishings. Microbial growth and building material deterioration is devastating. Finding the source of the leak and finding it quickly is of utmost importance.
Leak detection from your Phoenix AZ leak detection professionals will find the source of the problem leak and provide a complete leak detection report. Having to repair damaged walls, ceilings, carpets, or other flooring due to leaks are never ideal and the leak report will give you a place to start. It is highly recommended that you consult the professional leak detection service from your local Phoenix plumber.
Leaks can occur at any time. To accommodate the immediate needs of their residential and commercial customers, expert leak detection service providers offer round-the-clock services. Emergency leak detection and same-day repair services are available on a 24-hour, seven-day-a-week basis. Smiley Plumbing offers not only emergency plumbing but licensed plumbers are on call to deliver superior plumbing services to Phoenix and surrounding areas.
Your leak detection service professionals inspect the entire plumbing system to better inform customers about the state of their foundation and pipe system. Call Smiley Plumbing, your local Phoenix AZ plumber at 602-298-8100 to schedule leak detection services and to find out how we can help with all your plumbing repair needs.